This is a very quick analysis based on last week's closing signals. First, (SPY) is not showing all that much direction, at least on the daily time scale. It could go either way. The Russell 2000 (IWM) is signaling a strong downward movement. Friday's candlestick sets up a new resistance level at 1452. Look for confirmation of a downward trend today.
The S&P 500 is showing continued positive movement on the weekly time scale, but last week's candlestick was much weaker than the prior week's. The Russell 2000 finished last week off fairly weak. I would not call it a traditional shooting star doji, but it is close. At the very least it is showing increased consolidation.
Risk appetite is still fairly strong, based on the extended risk appetite index. However, both gold (GLD) and usd/jpy (FXY) is on the downtrend, with the yen reaching a ten handle last night. However, VIX is still near record low, which is signaling limited expectation of volatility in the short term.
Market Snapshot Image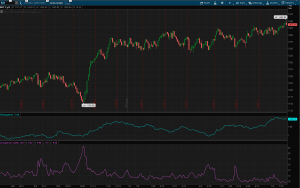 Watching
There's a fair amount of information coming out this week. One that everyone will be watching is the GDP estimate for Q2. The Atlanta Fed's GDP Now estimate has been declining, more or less consistently, since the first estimate for Q2 was released. It is now holding at around 2.5%. Consumer confidence data is going to be released on Tuesday, although the perception of the economy and how it is actually doing seem to be fairly disconnected right now. We also have the FOMC announcement on Wednesday, even though it is not expected that there will be any change in rate policy.