After the round one loss by Marine Le Pen, investors moved back to a risk-on psychology. The Yen and gold dropped considerably, even against the declining dollar. NASDAQ reached a new high of 6,000. The Russell 2000 also reached a new high, breaking out of its long term sideways trading channel. The S&P 500 also closed on in its all time high.
However, after two days of growth averaging 0.8% in the S&P 500, a rate of growth which is still fairly tame, futures are pointing to limited movement on Wednesday morning. Yesterday's trading also resulted in the formation of a dragonfly doji in the VIX price history with a low of 10.22, which establishes at least a weak support level. The direction of the VIX will be partially dependent on the details of Trump's tax proposal, which is really just a promise by him to keep a promise. But even if it ends up failing, as the healthcare vote did, for now it would provide something for investors to digest.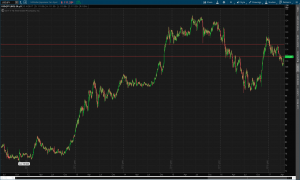 While USD/JPY has been rising steadily since Monday, it had trouble breaking above the 111.55 resistance that I have addressed in many of my previous articles. However, in early morning trading on Wednesday, price action finally moved it above the level. This seems to have been led by a sudden increase in strength in the dollar.
The last time it solidly broke through that resistance was during the uptrend which occurred after the results of the 2016 Presidential election. A failure to maintain the break through resistance would indicate that while some risk appetite has returned, it is not significant, and any new troubling condition could easily send the Yen lower. Successfully maintaining a price movement above the level however would suggest new found risk appetite.